APA 'Disability Inclusivity in Production' Talk in Collaboration with Unilever
Posted in D&I, Events, tagged with Diversity & Inclusion, Events, Seminars, on November 8, 2023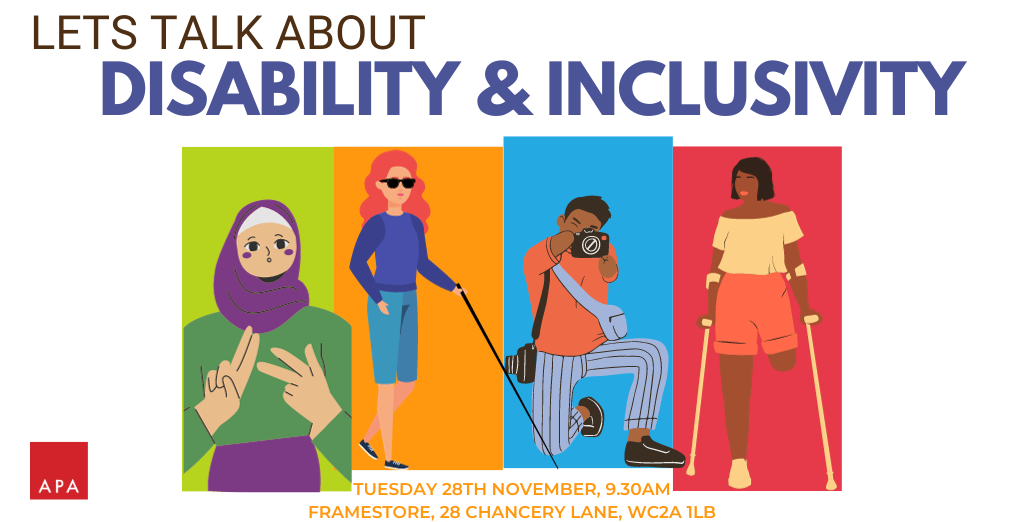 We are collaborating with Unilever to accelerate the inclusion of disabled people on set. We will be launching this collaboration at a panel talk on Tuesday 28th November at 9:30AM at Framestore, 28 Chancery Lane, WC2A 1LB. We will be discussing ways to make our industry more inclusive by actively involving individuals with disabilities behind the camera. Through this panel talk, we explain how you can foster a talent pool that truly reflects the diversity of our society and population.

As part of our support for the Unilever Inclusive Set Commitment, which we encourage you to participate in, Unilever will cover the costs for one mentee from the disability community on every master production valued at over €100K.

As we approach the year's end, let's take a moment to celebrate the positive steps we've taken to make all our member companies, and the broader industry more reflective of the diverse society we are part of. In addition to celebrating the progress we've made, it's equally vital to stay mindful of the areas where we still need to improve. We must continue our efforts to ensure that our industry becomes as representative as it could and should be.

This year it was reported that disabled people are the least represented in the broadcast production industry, making up just 6.5% vs. the disabled population as a whole, which constitutes 15-17% of the UK population (source: Creative Diversity Network). It is a figure that isn't improving quickly enough.

Unilever will be discussing:
How to access talent from the disability community
Unilever's open-sourced toolkit (aimed at promoting disability confidence and inclusivity in the industry)
The Producer's Guide (a quick 'how to' guide to delivering on Unilever's Inclusive Set commitment)
Accessibility and Placement Plans
We will be joined by Chris Lynch from Diverse Media. Chris Lynch is a disabled filmmaker and creative with over 20 years of experience working in advertising and media. During his career, Chris Lynch has attracted many high-profile clients including Pepsi, Coca-Cola, Diageo, Nisa, HBO and more.

We will also be welcoming representatives from Channel 4, Lucky Generals, and the Diversity Standards Collective. We will be announcing more details ahead of the event.

To attend please RSVP using the link below. Please come along at 9:30AM for a 10AM start.