Rest In Peace Bob Cramp
Posted in News, on April 24, 2023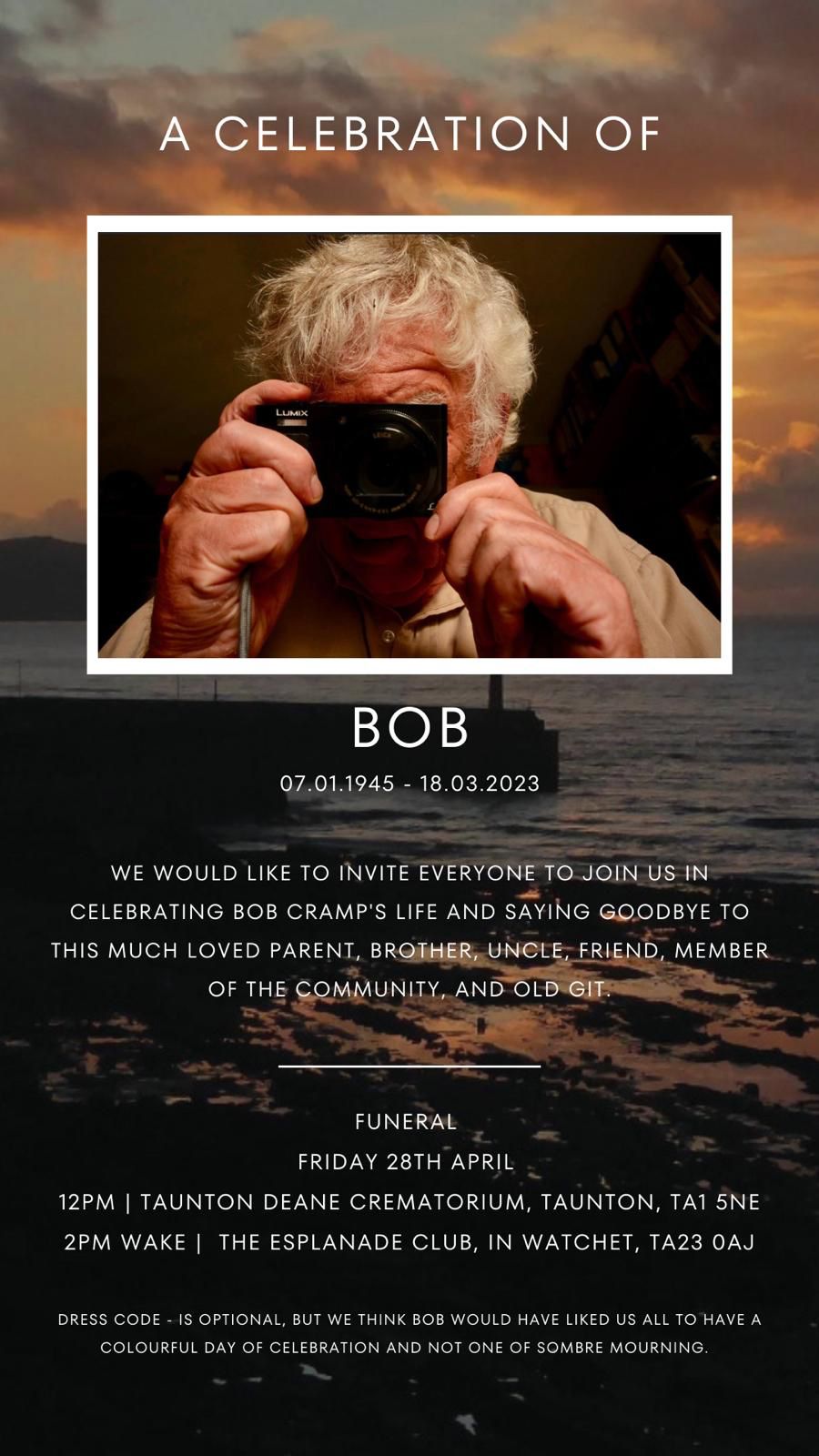 Bob Cramp died on 18th March in Musgrove Park Hospital, aged 78. He was an enormously talented advertising photographer and commercials director, leaving a 'larger than life' legacy which possibly includes helping Margaret Thatcher to an election victory by taking the photo for the Labour Isn't Working poster, which was voted poster of the century by Campaign in 1999.
Bob bought his first camera, a Kodak Brownie, at age 14 and when his mother discovered developing chemicals hidden under his bed, she asked if this might be something he would like to do. After two years studying photography at the then Ealing Technical college, Bob became part of the generation of young creative people working in what is now seen as the golden age of age of advertising.
Around 1965 He began working as an assistant for Adrian Flowers (official photographer of the Festival of Britain.) Whilst working for Adrian, they would set up a shoot in the morning and take test shots. Whilst the rushes were being developed Adrian took the client for a long and boozy lunch. They would return in the afternoon, review the test shots and make corrections before taking the final shots. As Adrian's confidence in Bob grew, he would arrive later and later in the morning. Up to a certain point it wouldn't matter that the client was there as Bob was busy doing the set up, but it got to the stage where waiting for Adrian became interminable and one day, at the client's insistence, Bob took the shot. When Adrian arrived, he wasn't very happy but realised Bob was ready to go out on his own and generously sent him off with his blessing and first client, Smirnoff.
From 1969-1980, Bob's photographic career thrived. His agents were Julian Seddon and David Esser and the team at Bob Cramp Studio, consisted of assistants John Laurence-Jones, Gavin Cottrel and Andy Andrews and his 'Girl Friday', Whilma Boyce. In the early days, family & friends were often called upon to be cast in his shoots and his eldest son Jethro Cramp remembers, "Growing up we got used to seeing Dad's work all around us on big hoardings and in the Sunday colour supplements." Bob shot campaigns for Guinness, Hovis, Hamlet cigars, Ford, Colman's mustard, Range Rover, Olympus, Heinz, Clarks to name but a few. He also worked with Fluck & Law (of Spitting image fame), taking cover photos of their creations for the front covers of the Sunday Times Magazine.
Whilst Labour Isn't Working was his most talked about photograph, it was just one of many in a career spanning 40 years, it wasn't typical of his style for which he became so well known; his studio lighting. Bob often used several purpose-built north lights approximating the light of an artist's daylight studio, soft and even. However, Bob's definitive signature was his command of the hard background spot light, which can be seen to great effect in his lifelong collaboration with jeweller, Wendy Ramshaw. He was her photographer of choice and Bob photographed all of her collections, including her landmark publication, Picasso's Ladies (Arnoldsch Art Publications 1998.)
In 1979, Bob started to work as a Director (lighting/cameraman) and in 1980 he closed Bob Cramp Studio and worked out of Director's Studio, where he won many awards for his campaigns including a Gold Cannes Lions for his stop-frame Heinz Salad Cream TV commercial. He worked on campaigns for British Sugar, Dulux, London Transport, Ajax, Heinz Tomato Ketchup Squeezy bottle and Mr Kipling to name but a few.
Bertie Miller was one of Bob's runners at Directors Studio and remembers, "Bob was not always easy to read, and I don't think he found it easy to express his emotions in a way that was commensurate with his nature. We shot a lot, pretty much every week, and I would pester him with questions which, if he had time he'd answer, but mostly I learnt through observing his mastery of studio lighting. Eventually I knew his lighting set up so well that I could place his lights ready for the day ahead. Invariably he'd come in, look at the lighting set up, shake his head, stub out his cigarette on the floor, move the lights, then move them back to where they'd been in the first place.
When I took a few months off to travel round India Bob showed his supportive, affectionate side by very generously giving me 20 rolls of Kodachrome25 including the processing costs (those who know, know) to use on my journey. It was his quiet way of telling me he cared, he wanted to encourage my photography, and he'd appreciated my work."
In 1986, Bob formed The Bob Cramp Production Co. Ltd with Sarah Martin producing and he finished his career at Production International. Bob was a gifted raconteur and thoroughly enjoyed pulling people's leg. Patrick Hayes once told Bob's daughter a story about a pre-production meeting where Bob introduced himself to everyone as the Director, but until a few weeks ago he'd been a policeman. He explained that he'd met Patrick in the street, they'd got talking and Patrick thought he'd be perfect for the job. Bob had kept a dead pan face and when he'd finished, he sat back, smiled expectantly at Patrick and waited to see how Patrick was going to get them out this."
Bob is survived by his first wife Jacqui, their children, Jethro & Emily, his stepson Justin and son William from his second marriage, his sister Lesley and four grandchildren.
Bob's funeral will be at Taunton Deane Crematorium at 12pm on Friday 28th April. The funeral will also be live-streamed.
Please email [email protected] if you would like the login details.
In lieu of flowers, the family kindly request that donations be made in Bob's memory to St Margaret's Hospice. Donations can be made via the Funeral Directors, Robson & Stephens 01643 703 000.