Virtual Production Event Recap
Posted in News, tagged with Events, on February 13, 2023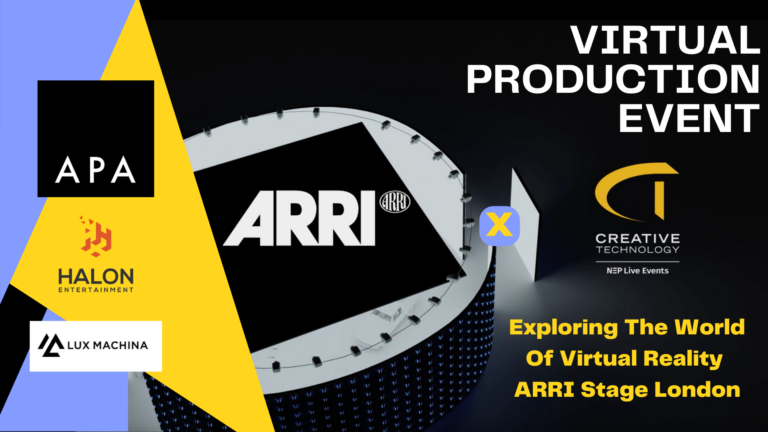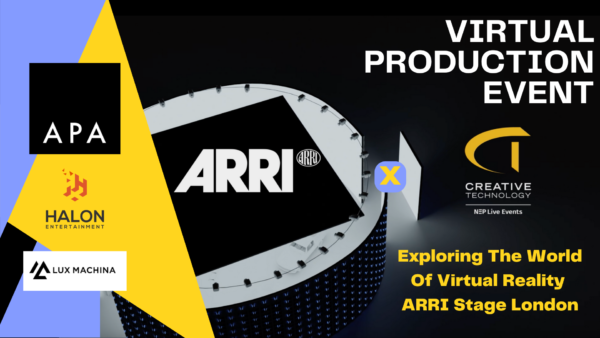 On the 26th of January, we held the Virtual Production Event in partnership with Arri Rental and CT (Creative Technology) in which our members were able to explore the capabilities of virtual reality within the production industry through an immersive and spectacular demonstration of the potential of its potential, attended by over 150 of you.
Robert Payton, Cinematographer and Virtual Production Consultant and David Levy, Global Business Development Director along with Will Case, Director of Innovation at Creative Technology explained where VP could help producers, ranging from enhanced visibility, quick on-set transitions, a library of assets, time and cost savings, post-production efficiency, promoting sustainability and much more.
They use the Arri stage to show us three different setups run by an entire VP crew and talent, along with a TV screen in order to show the audience what the final product will look like.
Starting off with a natural foreground, we witnessed an incredibly realistic display of a forest setting based in the summer and accompanied by a few props provided by the set & art department aimed at layering and texturing the backdrop. We then transitioned into the next demo, still based in a natural setting, but shifting the environment to autumn, we were introduced to the warm essence of fall weather and the true impact of the setting.
The Arri team then showed us several other uses of technology and space, in which they brought in a car and ran us through the revolutionary adaptations of filming a commercial for a vehicle or shooting a car scene, a rooftop penthouse located in Central London and Antarctica.
Thanks to all of the creatives and producers from agencies as well as directors from our member companies who joined us for this demo session at the Arri Rental Stage. If you were unable to attend or would like to learn more about the work Arri is doing, have a look at their brochure attached below, which includes stage offers, floorplans and more.

---

A particular thanks to Ed Jones, Promo Marketing Executive at Arri for putting together the team and making the demo day possible. For any marketing enquiries please contact Ed via his email.
Furthermore, thanks to the crew for setting everything up and to the following people for supporting and/or answering questions:
David Grey – MD at Lux Machina
Anthony Neale – Production Designer (also created the set extension)
Elaine Mackenzie– 1st AD for the event
Sean Ryan – ARRI Stage London Manager

To discuss an upcoming project, its suitability for virtual production and how Arri can help with that, please reach out to Robert Payton via the contact details below:

E: [email protected]
T: +44 7970 284535
Little Black Book has written a feature piece about the event and the significance of Virtual Production and its capabilities which you can read via the link below.