Nicole Gray-Hart Joins the APA
Posted in News, on October 6, 2020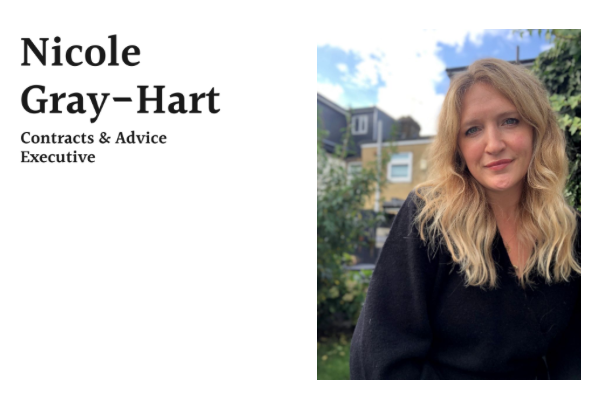 We would like to introduce you to Nicole Gray-Hart, our new Contracts & Advice Executive. We are delighted to have Nicole on board, with her strong production expertise through her 13 years in the industry, including a decade at Partizan.

Nicole will be supporting Steve in providing advice on production issues and contracts. As such Nicole will have a key role in our support for you, as we review and advise you on contracts, an increasingly complex area (particularly in the work that APA members are doing direct for Facebook, Google, Amazon et al) where the starting point is the MSA and SOW they want to use.

This is also an opportunity to remind you about the APA staff and their roles:

Becca Gribbin is our Head of Communications, responsible for keeping you all up to date with information we think will be of use to you. Becca also works with Steve on our diversity and inclusion initiatives.

Alesia Duff-Farrier is our Masterclass & Members Services Co-ordinator, organising the APA Masterclass, managing APA membership, new members and advising members on music video contracts and NDA's. She also administers the CFPE (Commercial Film Producers Europe) which the APA is responsible for organising.

Kati Hall's role is Member Support & Immersive Development, being on hand to answer your production questions, including on Coronavirus issues and reviewing NDA's and music video contracts. Kati is also responsible for the development of our Immersive Tech Group and for supporting our work with Adgreen.