Thunderdance in Cannes 2019
Posted in Events, tagged with Cannes, International Markets, on May 9, 2019
Thunderdance was born in November 2017 as a passion project by Josh Trigg and Ruby Griffiths, providing a platform allowing young film makers to showcase their work, network, and meet like- minded people.
Thunderdance is a bi-annual event, comprising of a light theme and a dark theme. In 2018, at the dark festival, Thunderdance introduced the first mental health-based category which grew from Ruby's studies in Neuroscience and fascination with the mind. You can see our mental health judge Mary Wild talking about the importance of this category in her interview HERE. She has amazing insight into the use of film and psychology and runs lectures at the BFI that apply psychoanalysis to film studies.
This year, Thunderdance is proud to announce they are introducing their first pop-up festival, in Cannes on Tuesday, June 18th, 2019. The theme of this year's pop-up, in honour of its location, is 'Crime of Passion'. Referring to a crime, in which the perpetrator commits the act against someone because of sudden strong impulse such as sudden rage rather than as a premeditated crime. The categories will include best narrative, best documentary, best director, best actor, best cinematographer, best music video, best experimental and of course, best mental health-based narrative.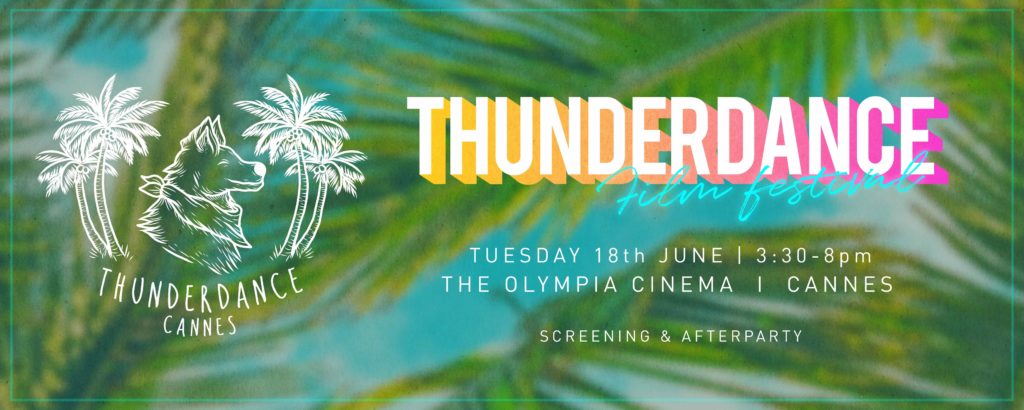 Thunderdance has presented an impressive panel of jurors so far, with the final Cannes line up soon to be announced, but previous jurors have included director David Nutter, two-time Emmy Award winner for 'Band of Brothers' and 'Game of Thrones. Roar Uthaug director of 'The Wave' and Alicia Vikander re-boot, 'Tomb Raider'. The legendary Rutger Hauer, lovingly known as the character, Roy Batty, from the original 'Blade Runner'. Barry Waldman, producer of 'Pirates of the Caribbean', 'Armaggedon' and 'Bad Boys 3'. Colin Salmon, who played the character Charlie Robertson, in three Bond movies, and Shaun Sipos who judged last year's Horror/Thriller category. Awards have been won by many talented people over the last three festivals and connections made around the globe. Getting valuable feedback from our judges and passing this on to our winners is part of our core mission. This we are super proud of and we will continue to connect more people in this way.
Also, People Just do nothing's Chabuddy G won his first award on the festival circuit for his film 'Lovepool' in our summer event, you can watch his interview HERE . That same year saw Maisey William's produced movie 'Stealing Silver' pick up best cinematography. Our Dark festival also saw some incredibly hard-hitting subject matter portrayed in beautiful ways. Namely 'Weight' by Chris Neal along with a fabulously dark rendition by Peter Harton who created a film named 'Shadows of my Mind' which saw a rather creepy love pursuit end with an eerie twist. In the mental health category, we like to champion a range of issues. A film we are most proud to promote was the wonderful 'Forget Me Not' by the Nüesch sisters which won the best actor category for the portrayal of a mother with bi- polar disorder and her daughter's relationship.
https://www.thunderdancefilmfestival.com/
https://www.vice.com/en_uk/article/3k49pv/a-beginners-guide-to-launching-your-first-short-film