4th Green Production Get Together
Posted in Events, tagged with Sustainability, on December 12, 2018
AdGreen recently held their 4th Green Production Together at The Mill, don't worry if you missed it though! As AdGreen's Jo Coombs has kindly put together this write-up of everything that went on…
For the second time this year, we encouraged anyone interested in sustainable production to come down to The Mill for our 4th Green Production Get Together. As with the previous three events, there was a mix of production folks, both familiar with and new to green production, plus advertising agency staff, suppliers and crew.
Once there had been sufficient time to grab a drink, we kicked off with Luke Brady of Casting Networks. They've recently worked with Richard Barker at Eden Casting Studios in Manchester to develop a paperless casting system, that is available at Eden & Newman Studios in London. This might sounds like purely a mission to save paper (and in just 8 weeks they've already saved 10,000 sheets!), but it's also a bonus for the actors and production. Potential cast members have to fill out as many as 6 different forms on arrival for a TV commercial casting. Once any actor registered with Casting Networks digitally signs in at their first casting, their information is saved for the next one – meaning more time prepping for the casting and less time filling out forms and trying to remember their hat size! And the system is GDPR compliant – praise the lord! Great for production too, with information easily available online within the video viewing platform, meaning no runner going to pick up the headsheets, no scanning them in, and no searching through them and attempting to read illegible handwriting, only to find a missing hat size. Bravo Casting Networks! And it's not just Newman and Eden – other studios are in the queue to get the Casting Networks treatment in the New Year, both in London and in other cities across the UK. The goal is a million sheets of paper saved by 2020…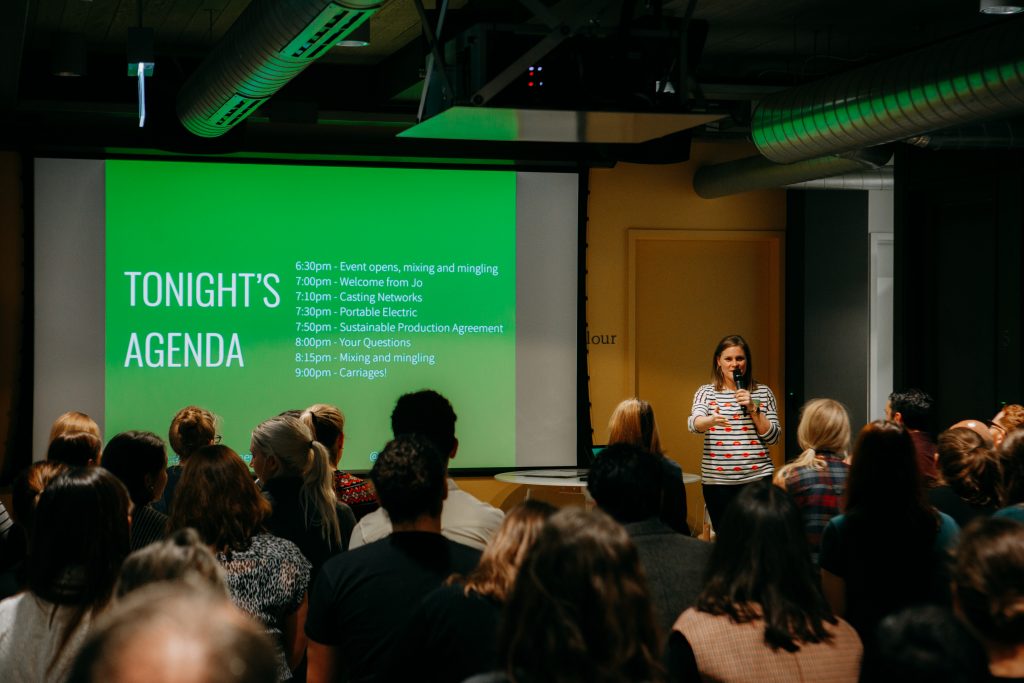 Before we nervously dialled in our second guest, Mark Rabin of Portable Electric, we covered a few basics for those new to green production. When our attendees had RSVPd via Eventbrite, we'd requested they let us know which actions they were struggling or wanted more information about. The results were really useful and helped shape the middle portion of the evening. Many were pondering how to deal with water bottles – one person told how some of the crew she had worked with now had 10 in their cupboard at home… and others were wondering about how to get recycling and composting facilities on their shoots. We covered quite a few of these in the evening. All of the answers are covered in our FAQ section so take a look there next time you're struggling… It's worth noting too that these smaller actions – essentially all of the Easy Things we advocate – are small fry in terms of overall footprint. Emissions from generators and kit transport, as well as powering offices and flying to far flung locations, have a much bigger impact. And this brings us neatly to Mark's presentation.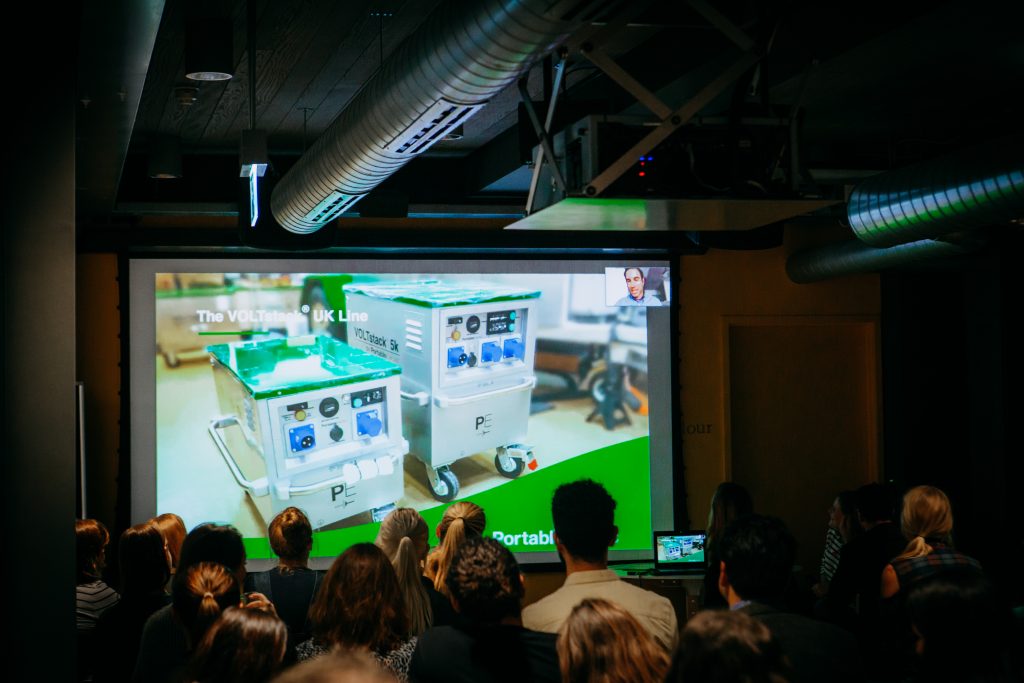 Mark Rabin joined us from LA, although he's usually based in Vancouver. He is pioneering on set power, having been developing clean portable power stations at Portable Electric for a number of years. They will have their new UK (230V 50hz) VOLTstack 2k and 5k power stations over here in the New Year and we were very keen to know more. There was a real buzz on The Mill's 1st floor as Mark told us about the units, and he took a fair few questions at the end. He talked about their various applications, given that they are silent, don't emit any fumes, and can be charged up with mains electricity, or solar panels – and units can be daisy chained to provide more supply. It's interesting to flip how we usually think in terms of power, and to consider working within the limits of equipment like this, rather than working on the basis of infinite supply, selecting whatever lights or location kit we fancy. It'll be interesting to see the impact Portable Electric's kit could have on the way we work in the future… We're helping the PE team to get meetings with various kit rental companies, in the hope that they are available to rent in the spring from one of our usual lighting or location rental houses. Watch this space…!
It was an absolute pleasure to speak to such a captive audience who are (or soon to be) integrating sustainable production methods in their everyday work flows. It starts with the little things like recycling and composting, and now with the right tools in your kit, power and energy efficiency will start to transform the production industry. We share in the excitement and readiness for change!

Mark Rabin, Portable Electric
We rounded off with a quick run through the Sustainable Production Agreement – an under used resource on our website, but one which provides a framework of how commercials can be made whilst reducing waste and emissions. If you're not familiar with it yet, check it out here.
Thanks as ever to The Mill, their tech support for the call with Portable Electric was brilliant! The nibbles and beverages are much appreciated too… To those who came, we hope you left the event inspired to make some changes on your next shoot, and we'll keep you posted on Casting Networks and Portable Electric's progress in the coming months via Facebook, Instagram and Twitter so get liking and following. FYI we're pretty into insta stories these days (who isn't?!). Join us in the spring for GPGT5, and if you're enrolled on the 2019 APA Masterclass, we'll see you there too! Details to follow via our newsletter.