British Arrows announce the Chairs, juries and categories for the March 2019 Show
Posted in Events, tagged with Awards, Events, on October 19, 2018
With Call for Entry for The British Arrows 2019 show opening on Monday 22nd October, the British Arrows are delighted to announce CHAKA SOBHANI – CCO at Leo Burnett, as Chairwoman of the 2019 ARROWS jury and SHANANNE LANE – EP at 4creative, as Chairwoman of the 2019 CRAFT jury.
On chairing the 28 strong ARROWS jury made up of clients, agency and production experts, Chaka Sobhani commented, "I'm so incredibly honoured to be Chair of the ARROWS Jury 2019. The British Arrows are a celebration of the UK at its very best, where the most brilliant ideas come to life through the most exquisite craft. I can't wait to get together with my fellow jurors, Charlie and Janey and see the best of the best this year!"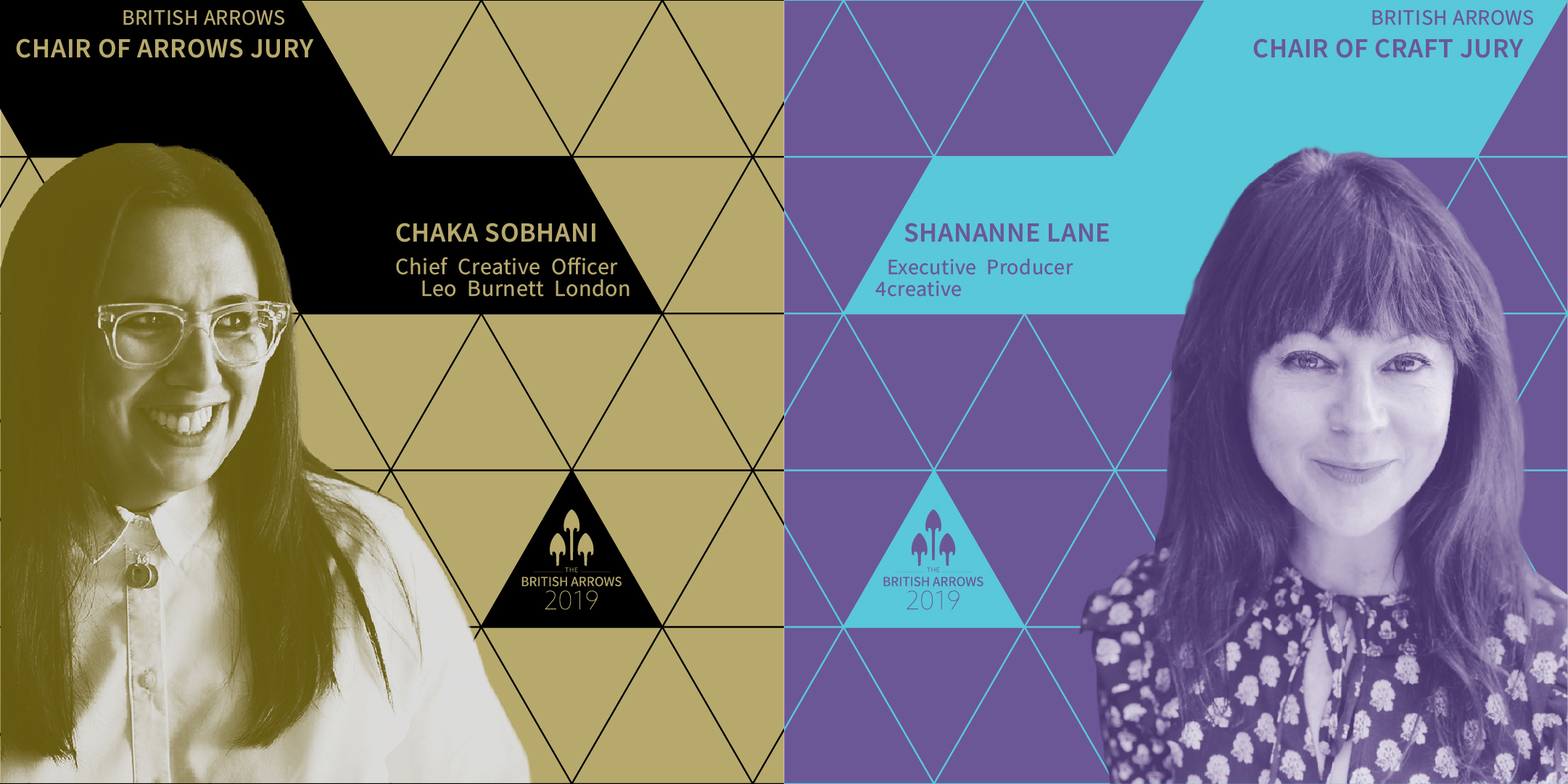 Shananne Lane's CRAFT jury of 34 will once again be split into agency, production, post and audio groups, with experts and artists from each discipline judging their own area of expertise.
Shananne commented, "I have had the great fortune of being able to work with some of the finest creatives, directors, crew, and post production teams in the business, and also to discover new talent…It is such an honour to have been asked to Chair the most important awards in our industry."
Charlie Crompton, Chairman of the British Arrows Board, comments, "At the British Arrows, we are lucky enough to attract the smartest, most diverse, most passionate and most engaged jury in the industry today. Sitting down together for six days in a state-of-the-art screening room they debate each and every entry so that nothing too niche gets lost, anything that splits the jury is given a fair shake and the brilliant, eclectic, thought provoking body of work that comes from that process will stand proud as a genuine time-capsule of life in Great Britain in 2018."
The British Arrows 2019 offers entrants a full year of eligibility from 1st January 2018 to 31st December 2018, and the iconic show will move back to its original slot in March – taking its place as the UK's first advertising awards show of the season on Wednesday 27th March 2019 at Battersea Evolution.
Three new categories have been added for ARROWS – The Power of Film, Best Social Video and Most Innovative Use of Video. The Power of Film is the only Special Award that entrants can submit work to, and is open to both UK and International commercials that have used the medium of film to deliver a powerful message that has a positive impact on society, with the intention of inspiring real change.
The 2019 show will also see the return of The BAD Award after its inaugural success in 2018, as BAD (British Arrows Doorway) continues on its mission to shine a light on young, under-represented talent – helping them connect with the advertising industry, and for the industry to hire this talent.
Call for Entry opens on Monday 22nd October 2018 | Download 2019 Entry Pack here
Key Dates:
Monday 22nd October 2018 – Early Bird Entry opens & Tickets go on sale
Friday 4th January 2019 – Entry site shuts down (No extensions are possible)
Thursday 14th February – Shortlists announced
Wednesday 27th March – 2019 Show