straight 8 at Ciclope, Berlin 2017! | Entries open 8th Aug
Posted in Events, News, tagged with Awards, Events, International Markets, on July 21, 2017
We have teamed up with straight 8, after two great years at Cannes advertising festival, to challenge the global ad industry to a super 8 shootout at this year's CICLOPE International Festival of Craft in Berlin.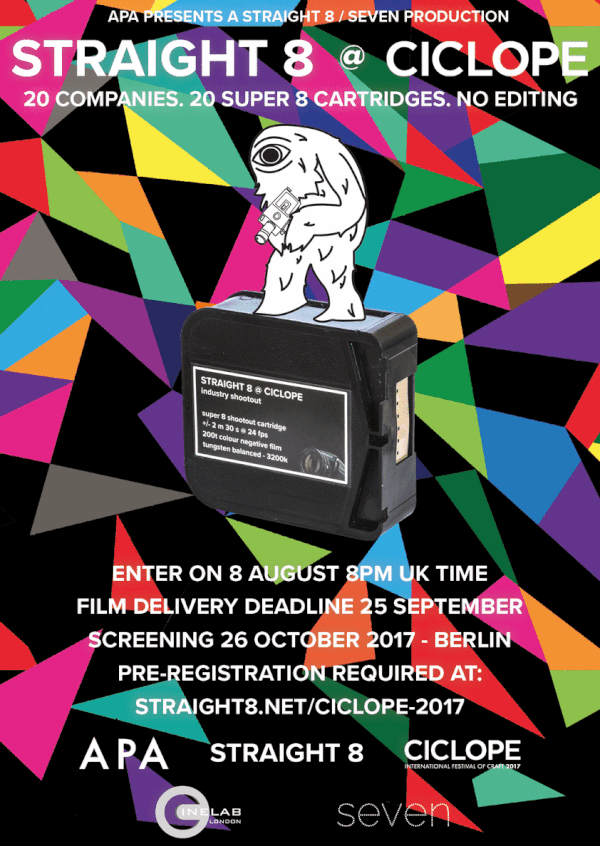 Just like the regular straight 8, entrants make a film on one roll of super 8mm cine film, with no second takes, no editing and no post-production. Sound must be original and is delivered 'blind'.
straight 8 creates a level playing field for experts and rookies alike. And what's more no-one sees their masterpiece until its packed premiere.
Entry opens on August 8th at 8pm UK time – first come first served. Pre-registration is essential HERE!
Entry is limited to 20 companies working in the global ad industry, competing as companies, for charity. Each company will see their straight 8 film for the first time at Ciclope 2017, Kino International, Berlin, on October 26th.
The cinema audience will then vote and the winning companies get to donate the prize-money to the charities of their choosing.
There is no creative brief and entering companies must source all cameras, crews, props, locations and ideas. This is a great chance to have some fun, making a film in one of the hardest ways possible, raising money for charity and battling creatively with the rest of the industry.