CALL FOR ENTRIES | THE I.D.E.A.S AWARDS
Posted in Events, News, tagged with Awards, Events, on March 29, 2017
We are very pleased to announce the 2017 call for entries for our IDEAS Awards, returning for their second year.
This time we have introduced six categories, to distinguish between different types of IDEAS (Interactive Digital Experiential Advertising Showcase) work:
Best Augmented Reality Experience
Best Virtual Reality Experience (utilising real-time engine)
Best 360° Video
Best Music/Sound Design in an Interactive Experience
Best Mobile App
Best Experiential Instillation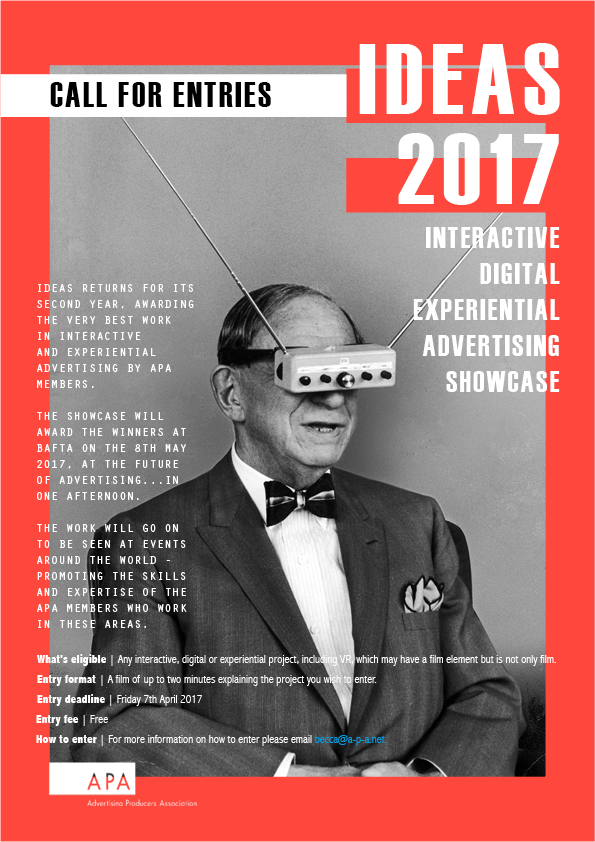 Entry is FREE and only open to APA members, so don't miss the chance to be a part of this showcase of the best in interactive work, and have your work judged by some of the industry's most knowledgable and experienced people – not just in advertising but within the field of interactive technology as a whole.
The first step is an invitation for you to send films of up to two minutes in length which explain the project you wish to enter – its making of, press reaction etc. We are very excited to to see what you'll be sending.
For more information on how to enter click on the buttons at the end of the page, and if you still have any questions please email [email protected]