Adweek Europe – Exclusive offer for APA members: 50 delegate passes!
Posted in Events, News, tagged with Seminars, on April 13, 2016
The APA has sponsored Adweek Europe, next week in London from the 18th-22nd April!
50 FREE PASSES!
As well as having our exciting VR Experience running all week (in the box office of the Picturehouse Central, the main Adweek location) we have acquired 50 free delegate passes as part of our sponsorship.
To claim these passes – first come, first served! – please click HERE – but wait!
Before you do, all that we ask is that you drop us an email to [email protected] and let us know that you'll be claiming one. Once you have, we'd like to maximise the benefit that these passes will bring to APA members, so please do try and attend at least one full day of the Adweek Europe experience. We'd also love it if you were able to drop us a quick line afterwards, letting us know what you've seen and how worthwhile it had been.
DIDN'T MAKE IT?
Not to worry, all APA members get 30% off on Delegate Passes. Just use the promo code APA30 at checkout.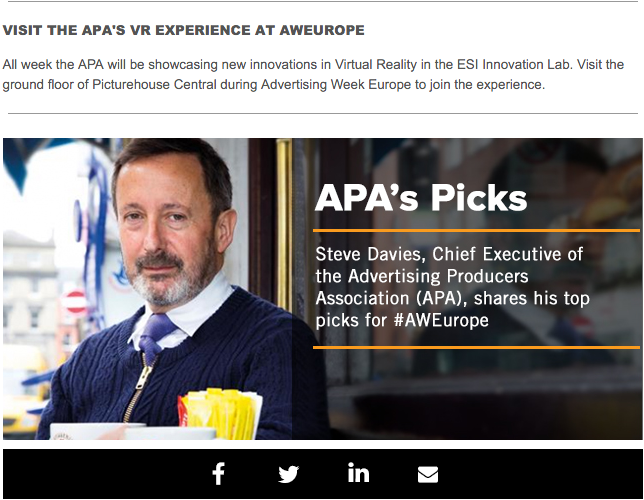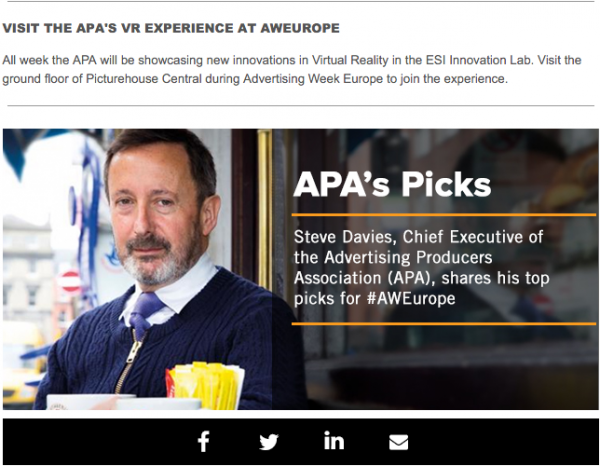 OTHER APA ADWEEK OFFERS