The Year Ahead – Part 2
Posted in Events, News, on January 9, 2015
Following on our update on Sir Martin Sorrell's predictions for the year ahead, here we bring you charts and data from the IPA Bellwether report and the World Advertising Research Council, predicting ad spend for the UK in 2015, and a worldwide overview on how ad spending is changing in absolute terms and between media
Interesting facts and figures and again an encouraging outlook for the year ahead
Please read more below…
The year ahead part 2 – charts and data
Following our email earlier this week which summarised Sir Martin Sorrell's thoughts on the year ahead, this is a summary of the analysis and predictions of the advertising market for the year ahead, based on data from the IPA's Bellwether report, WARC- the World Advertising Research Council, again to help you in your understanding of the market and business planning for the year ahead.
The Bellwether report is an quarterly survey of marketing directors of the top 200 advertisers, asking them whether they expect their marketing budgets to increase or decrease, what media mix they plan to use etc. Over the twenty years or so it has been in operation, it has proved a very good forecaster of adspend.
Their most recent survey showed:
Marketing budgets being revised upward at the third highest rate in history. Internet and TV are the best performing categories
Data on UK outlook.
APA members work for many more overseas agencies and advertisers than they did in the past but the UK market (UK based advertisers and agencies) remain the most important.
WARC Ad spend prediction: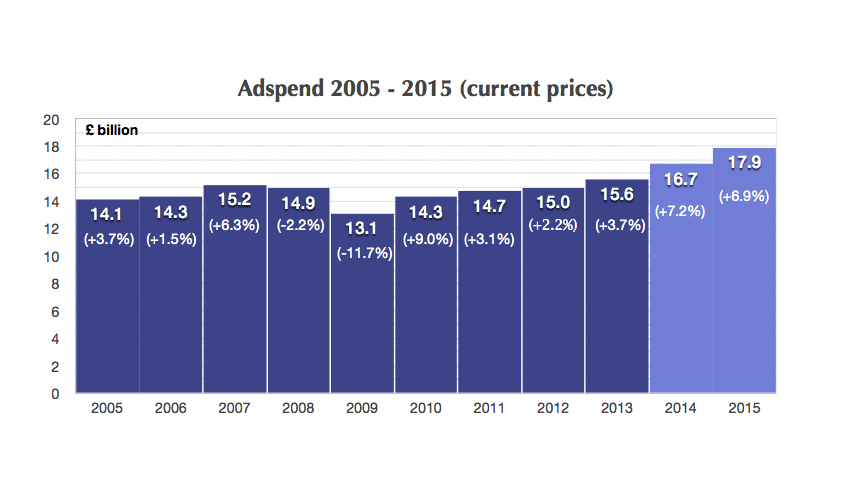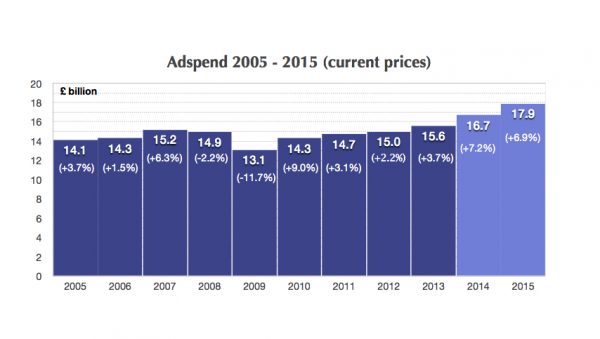 The UK is the fourth largest advertising market (behind the US, China and Japan) on purchasing power parity and shows strong growth over 2014 and predicted for 2015, following steady growth over the four years following the 2008/9 recession, as shown above.
Worldwide Media Overview: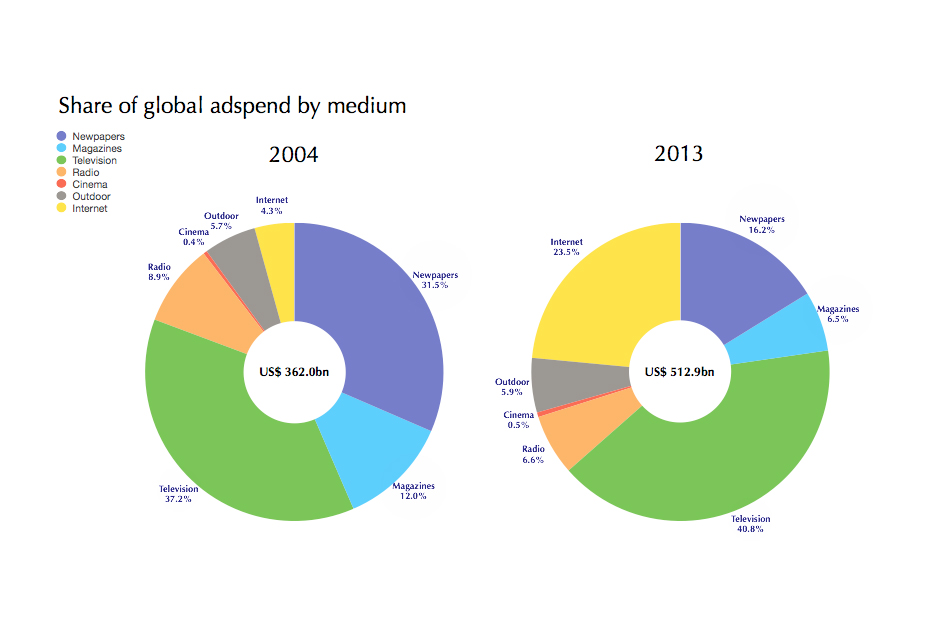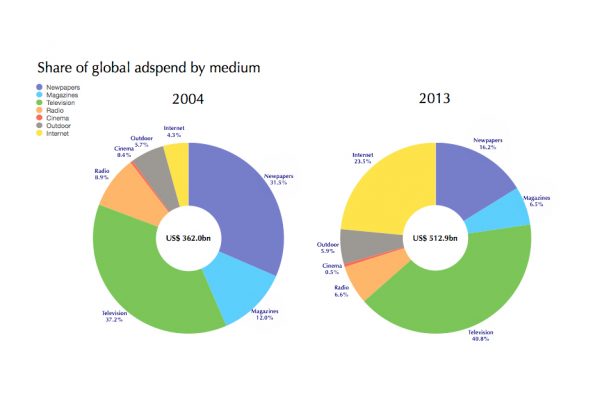 This chart shows that over the period 2004-13, the total spent on the internet in absolute terms has grown from $155 million and 4.3% of total adspend to $ 120 billion and 23.5% of total adspend.
More interestingly and perhaps less predictably, expenditure on TV also increased its share of total adspend, as well as in absolute terms: from 37.2% and $134 billion to 40.8% and $209 billion.
So growth in internet adspend has been at the expense of newspapers and magazines and not TV. With the internet increasingly becoming a video medium, adspend growth is firmly focused on the media in which APA members work.
So following on from the year ahead part 1, this is further evidence of a strong and growing demand for commercials production (meaning here all audio visual advertising content).
For more facts and figures on advertising, see www.warc.com.