Founder @ Cassidy Media Partnership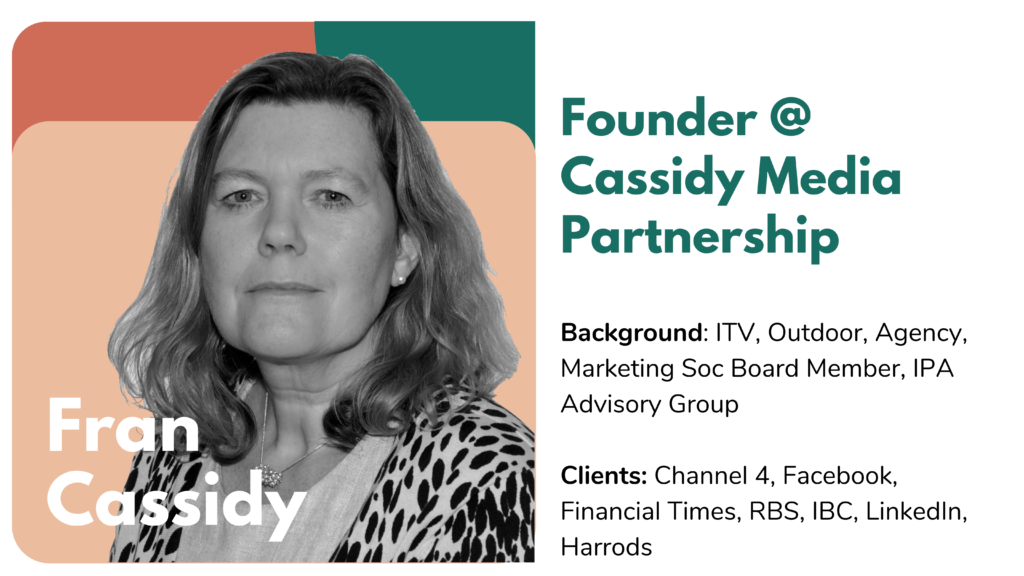 Fran Cassidy has had over 25 years' experience in the marketing sector- in agencies, brands and as a media owner. She was a Marketing Director within the ITV network for many years but for more than 15 years she has run an independent marketing and research consultancy specialising in commercial development, marketing effectiveness and reputation.
Fran is a Fellow of global networking organisation The Marketing Society. Clients include the IPA ( Institute of Practitioners in Advertising in the UK); Financial Times, LinkedIn, Sky, French TV Group Canal Plus; Channel 4; Barclays, BARB, Facebook, Harrods, and WARC. She has also managed pitches and contract negotiations for brands for a number of independent pitch consultancies.
She is a regular conference speaker and has judged many of the leading effectiveness awards programmes including the IPA Effectiveness Awards, WARC Awards programmes including effectiveness of investment in social networks and also Cannes Lions and the British Arrows (TV) Awards.